Commercial
Commercial Plumbing Services Melbourne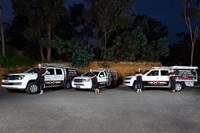 Are you a Melbourne business looking for reliable plumbing services?
You found us.
Whether you need plumbers for your office block, retail shop, warehouse, factory, clinic or shopping centre, we're just a phone call away.
NextGen Plumbing Group services all commercial premises across Melbourne, working with builders, developers, real estate agencies and business owners on a wide range of commercial plumbing projects.
Our team are the best at what they do, offering you a group of highly skilled and well-trained plumbers who are insured, accredited and ready to help you.
Commercial Projects
With over 20 years of experience in commercial plumbing, we provide a whole range of plumbing services to maintain, repair and service all commercial properties.
NextGen Plumbing can do all the plumbing while you keep your business running.
We offer Emergency Plumbing Services for unforeseen plumbing inconveniences, or Commercial Plumbing for any regular maintenance.

Just call 0411 427 696
Our Commercial Plumbing Services
Group prides itself in providing excellent customer service without any fuss.
Our team will get busy addressing your commercial plumbing needs while you're busy running your business.
We offer round the clock, hassle-free plumbing services for your commercial property anywhere in Melbourne.
Strata Plumbing
Leak detection, blocked stack work and sewer lines- NextGen Plumbing Group has all the solutions and expertise to repair all issues and perform all Strata Plumbing work for your commercial property.
Industrial Plumbing
We are experienced working with all industrial businesses and sites, offering a wide range of industrial plumbing services. From maintenance plumbing work on offices, factories, supermarkets, retail stores, restaurants and hotels- we have the skillset and resources to do the job perfectly.
CCTV Inspections (Pipe Camera Inspections)
Closed Circuit Television camera inspections are the fastest and safest way to observe pipework, drains and sewers to diagnose any problems that might be causing blockages, leaks or unpleasant odours at your premises.
Jet Blasting
To easily clear and unclog pipes and drains, we utilise a powerful hydro jetting machine to ensure your pipes or drains are blockage-free.
Valve Testing and Replacement
Valves require constant maintenance and must be replaced at regular intervals, according to relevant legislation. You can depend on NextGen Plumbing Group to maintain your business' valves and make sure they are compliant.
Hot Water Systems
NextGen Plumbing understands the frustration of having faulty Hot Water systems. So, leave it to us to inspect, repair or install this essential system to have hot water running at your business again.
Roof Plumbing
We can service and replace the gutters and downpipes on your commercial property's roof.
We can be at your door, fast!
As your dependable commercial Melbourne plumbers, we always put your safety and satisfaction first.
If you are experiencing plumbing issues at your premises, please don't hesitate to give us a call.
Your local experts at Next Gen Plumbing Group are more than willing to listen and discuss your plumbing issues to determine exactly what you need.
For all commercial plumbing queries, our lines are open 24/7.